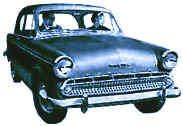 A U.S.A. based site affiliated with The Brotherhood of the Three Spires and: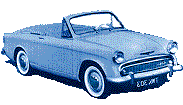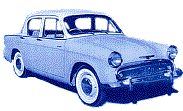 A Hillman is an automobile line from the "Rootes Group": a once major British automotive manufacturer. In the 50's & 60's, they were exported to the U.S. in the "foreign invasion" of a market then dominated by the "Big Three" (GM, Ford and Chrysler). Hopefully this site will help to solidify a collective interest in these very rare cars and assist people seeking to locate one or is trying to keep one on the road. This site specializes on the "Audax" Series Hillman cars manufactured from 1957 to 1967.
Site Index:
Introduction

Maryland British Shows

Parts and Info Links

Picture Gallery

Miniature Hillmans

Whimsy & All That Rot

Minx Parts Substitution

My Hillmans:
1959 Minx Series III "Special"

My "New" Hillman
Progress Report

59 Minx III Deluxe

60 IIIA Convertible

My Garage Project

Brotherhood of the Three Spires:
U.S.A. only. Membership cost is 4 U.S. postage stamps a year. You get the Quarterly Newsletter Melodies: Jan Eyerman publisher. It has car ads and a detailed article on a select Hillman car. To join, send stamps and address to:

Brotherhood of the Three Spires
4 Townley Ct.
Flanders, NJ 07836
Interested in Hillmans?
No matter if you own one or not, if interested in Hillmans, you should join the Hillman Listserve. You'll get messages automatically via email from Hillman owners Worldwide and benefit from their stories and expertise. They will even help you with those hard to find parts, or solving your difficult problems - or you can just read the messages. It's up to you - no obligation.

MY FIRST HILLMAN
Feature Articles:
Melodies Issues Archive

Minx Rust Areas & "Sag"

The Hillman Graveyard

Parts Interchangeability

Owner: Bud Brick's 58 Minx

Owner: Doug Lyle's V8 Hillman Husky


Hillman Owners List

Hillman Book Search